Feature Story
Recollections on the Brisbane Folk Scene
by Mary Brettell
It was early 1969 - the era of The Seekers, Peter Paul and Mary, Joan Baez. 'Folk' was in fashion. As a child I had been taught to play ukulele by my Mum then graduated to guitar. A friend from work convinced me to go along with her to sing at a church 'coffee shop' one Sunday night at the Lutheran Church Hall at Woolloongabba. I became a regular at these events across Brisbane . They were all folk-oriented.

Someone then convinced me to appear on 'New Faces' and it was there, at the studios of Channel 0 Brisbane, that I met Dave Worthington and Paul Miles. These two were performing as a duo at the time and after hearing me sing invited me to go to The Folk Centre.
I must mention here that at this time I was invited also by the chief judge, Bernard King, to go along and sing at a Country and Western place he ran called 'The Barn'. My decision made at this time was the first in many to steer me on my path in life.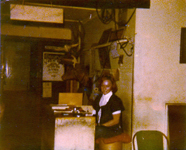 So, I went along to The Folk Centre. The place was down a laneway at the back of the People's Palace which was on the corner of Edward and Anne streets in Brisbane . At the entrance, off the laneway, I was greeted by the sight of a moose head on the wall by the door. There was a person at a desk taking the entrance fee which was something like 50 cents.
I entered the place and found it to be a large, dimly-lit basement room. Straight ahead was the entrance to the kitchen with it's 'no entrance' sign on the door and the rest of the place was filled with tables and chairs. A rather bohemian sort of place – like nothing I had seen before. There were all sorts of memorabilia on the walls, ceiling, behind the stage…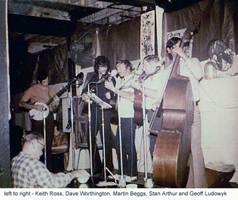 The stage was immediately to the right as you came through the door. I discovered that Dave Worthington was a member of the resident group – The Wayfarers. At the time, I seem to remember Keith Ross on banjo, Dave Worthington singing and playing guitar, Geoff Ludowyk on bass, Brian Whitlow was playing whistle and, of course, Stan Arthur played guitar. The music was wonderful. The atmosphere was amazing. Welcoming, intriguing, exciting. Live music – I was hooked!
Dave introduced me to Stan and I was invited to get up and sing. I can't remember what I sang but I used to do the pop/country song "I have Loved me a Man" a lot! I probably sang that.
It wasn't long before Stan invited me to be a 'resident' performer. 'The Centre' ran Friday, Saturday and Sunday nights and I began singing there every Friday night for the princely sum of $5.00 a performance. Wahoo – my first paid professional gig!
My style of music began to change immediately and I started singing more 'folk' style, albeit mostly American. It was not long before I discovered Traditional English folk music and, of course, Aussie folk songs. My repertoire has always contained elements of all of these.
I met many people at the Folk centre and most of them are still counted among my friends. Just to name a few …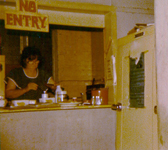 Stan and Kathy Arthur ran the place. Don Bruce was the tall waiter with the deep bass voice who sang along with all the musicians on stage as he served up baked beans on toast, apricot nectar, toasted cheese sandwiches where the melted cheese produced strings of cheese which resisted attempts to separate the triangles and coffee (I remember one night when the kitchen ran out of milk and they used ice-cream in the white coffees!).
Easter 1969 saw the National Folk Festival come to Brisbane but as I was still not 'in the know' folk-wise at the time I missed it. I remember people coming in to the Folk Centre on the Sunday night saying what a wonderful time had been had by all. Darn! I never let that happen again!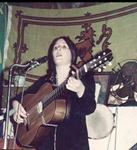 Performers at the Folk Centre (in no particular order, especially not chronologically) were Alice Gilfedder, Sue Edmunds, Sue Wighton (both Sues later became members of the Wayfarers), Keith Smith, Dave Pleasance (played Flamenco Guitar), Aubrey and Martin Beggs (they later became members of the Wayfarers), Stuart and Ross Roache (Ross also, much later, became a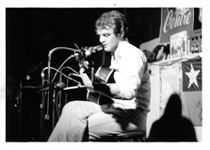 Wayfarer), Tony Miles (yes, he became a Wayfarer too), Don and June Nichols (Don being another long-term member of the Wayfarers), Don Geddes (he wrote his own material) and Ken Evans (all the girls fell in love with Ken). There was also Mike Clarke who formed a duo with Tony Miles, Alan Forshaw, Mike Wilkins (AKA 'Mr Juicy' because that was who he worked for), Jan Davis and Rhys Owen (Rhys kindly and very ably played guitar on my 'MaryB' CD, recorded in 2007).
One person I remember very well was Bill Scott, one of the founding members of the Folk Centre. He used to come in and read his 'Uncle Arch' stories. Bill always amazed me with his breath control – it seemed like he could read out an entire page without drawing breath – and the stories were wonderful.
Other Wayfarers during the Folk Centre era were Theo Bosch, Gary Tooth, Alan Knox, Charlie Kelly, Lionel O'Keefe and Ken Evans – all of these folk excellent performers in their own right. The Wayfarers kept going after the closure of the Folk Centre in 1978 and other members were Martin Gallagher, Jan Davis, Hugh Curtis and Tony Miles.
Tony Miles ended up finally as a member of the Rantan Bush Band which was formed by Alan Craig and his wife, Robyn.
Ken Evans, Stan Arthur, Lionel O'Keefe and Ross Roache also formed an alternative group as The Currency Lads.
Other folk I met at the Folk Centre were Michael Bourne – who was a rather shy individual in those days and we hardly spoke to each other. Quite a change from nowadays where he and I collaborate on the publishing of the web edition of the Folk Rag! Also Katie Bestevaar, Alan Bannister, 'Big' John, Cyndi Gallagher (who started her own folk venue at Milton – more on that later), Pamela Gallagher, Noel Wright, Graeme Marrow, Dale Riddle, Dick Halligan, Phil Wilson (who teamed up with Don and June Nichols in the 'Moreton Bay Band'), Mick Moore (he lived at Edmondstone Streeet – a place of many parties – more on that later also), Maria Szawejko (who is now married to Don Nichols) and Gwen who was often the 'door person'. Oh, and who could forget, Mary Ducey.
There was also the Newcastle contingent, mates of Ken Evans - Phil Brown, Keith Barrett, 'Bubbles' and Graham (Hendo) Henderson .
As the Folk Centre was a 'dry' (no alcohol) venue most of us would meet early at the Centre and go on down to the Crest Hotel where we took over the public bar with our singing. At 10.00 pm , when the bar shut, we were back to the Centre with a glow on to sing some more. On one memorable night in the bar at the Crest we were singing away when a very well-dressed, well-spoken fellow came up to us and said he enjoyed our music so much he would like us to go back to his place. Never being backward when there was an offer of a party on the table a couple of car loads of us decided to follow him back to his place. We had no idea where we were going. He lead us back to Bardon and right through the gates of Government house. He was the butler there! The Governor and his family were away and we had the place to ourselves. We drank their spirits, used their crystal, sang some more… the next morning my Mum asked "What did you get up to last night?" to which I replied – "I went to Government House". Needless to say, it took a while to convince her I spoke the truth.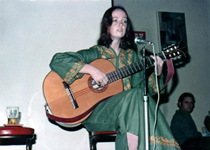 Anne Infante started a folk club to complement the Folk Centre. I began frequenting both venues. Her club, The Barley Mow', held on a Thursday night, was at the Hotel Cecil in George Street . This venue, being a pub, had an entirely different atmosphere. The Folk Centre was 'dry' where the Barlley Mow was anything but – still, the music was great – and Anne ruled the roost and no one DARED make a sound while a performer was 'on stage'. So, that took up four nights a week.
Through the Barley Mow I met more folk – Chris Nicholson, Frank Graham and Bernadette (a trio of young performers), Johnny Deykin (who resided at Red Hill where I went to many an all-night party), Evan and Lyn Mathieson and Peter Auty.
When Anne finally 'retired' from the barley Mow others, including Alan and Robyn Craig took it over. The Hotel Cecil had to make way for 'progress' and was torn down and the folk club moved to the Caledonian Club at Kangaroo point (which has also now been demolished!).
In 1972 a group of intrepid 'folkies', including Bob Michell, Anne Infante and Doug Rickards undertook a research trip to trace the old stock route mentioned in the song known alternatively as 'Brisbane Ladies' (Brisbane being at one end) and 'Augathella Station' (a station supposedly the 'other' end – but no such place exists on the stock route).
They met the Palmes, the owners of Taromeo Homestead who invited everyone back to spend weekends on their property and many a weekend was spent camping and singing, swimming, stumbling about in the dark (Dale Riddle still has the scars) and mushroom picking. (Taromeo had an abundance of a particular type of mushroom, which grew out of the droppings of the bovine inhabitants). This then lead to The Taromeo Folk Festival at Easter 1978 organised by Don & June Nichols, Anne Infante and Ken Evans, with helpers including Bill Hart, Kevin Shearer and John Cox.
I moved out of my parent's home in 1972 and moved in to 8 Bellevue Street Milton (which is now part of the XXXX brewery). I was sharing with the Gallaghers – Martin, his sister Cyndi and their mother, Pamela. Now THERE was a place for parties. Hardly a week went by without there being a party at Bellevue Street . We had wine and cheese parties monthly – cheap plonk and cheese and crackers and lots and lots of singing. Any other excuse would see us partying. It was always interesting to get up in the morning and see who was 'left over'.
After moving out of Milton I went to live in a one-bedroom flat at Edmondstone Street West End. Mick Moore had a flat in the front, the biggest of the flats and Dick Halligan and Judy Curtis had one at the back. Now MANY a party was held at that address, mostly in Mick's flat – any excuse, at night, Sunday afternoons… we always sang our little lungs out.
Another party address was Douglas Street Greenslopes – the residence of one Ken Evans. Here I would like to mention one very memorable Saturday night event that took place at that venue.
Often parties did not start until after the regular venues had closed. I arrived at Douglas Street early – around 10 pm . Serge Petelin was there putting 'touch powder' on the door knobs and on the floor around the toilet so that when anyone touched the handles or stood on the powder it went off with a bang. (Serge loved things that went 'bang' and I could go on about some of the explosions he created … but that is not the purpose of this story).
Eventually Ken and others arrived with a keg of beer which they set up in the kitchen and the party began. The keg turned out to be a messy choice as folk availing themselves of the amber fluid were spilling great quantities on the kitchen floor.
Someone sitting on the railing on the verandah fell over backwards and had to be retrieved from the garden. Another soul who had been out in the back yard came back with a rather nasty gash in their foot (no one wore shoes in those days – flamin' hippies!), which bled profusely. Before it was decided that a visit to a doctor would be required they had walked through the beer on the kitchen floor then out through the hall to the front of the house, leaving a trail of blood and beer as they went.
S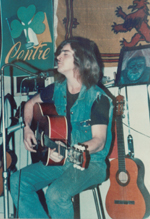 o, it was off to the hospital for the cut foot and the case of alcoholic poisoning (the person who fell over the railing). While maneuvering the car out of Ken's front yard the driver managed to run over someone's foot. Someone else had also decided to try to karate-chop a lump of wood and broke a bone in their hand. The upshot of all of this was that the keg had been totally drained in under two hours and several of the party-goers ended up at the hospital.
The following night, Sunday, at the Folk Centre, there were some very sore heads and people sitting around with various bits in bandages and/or slings. Man, we knew how to party in those days!
Another great venue for partying was at Geoff and Nancy Wills' place at Whites Road Lota. Geoff used to run instrument making workshops under his house. Many an afternoon was spent at Whites Road . Geoff and Nancy built a 'wall of remembrance' on the property and any time someone of significance to either the Communist party or the Folk Community passed on a plaque was added to the wall for them. Every time a plaque was unveiled there was a party to follow.
Now, enough about parties – back to the regular venues and events. As mentioned earlier, around 1972, Cyndi Gallagher gained access to a shop at the corner of Milton Road and Gregory Terrace where she held a folk night one night a week. Here we sang mostly contemporary folk music. There was no furniture to speak of so we all just sat around on the floor and took turns at singing. What a bunch of Hippies!! It was great!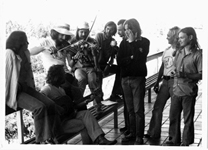 The Queensland folk Federation held the Moreton Bay Folk Festival in 1973. This attracted some extremely talented 'southerners' such as Derrick Chetwyn, Declan Affley, Danny Spooner, Gordon McIntyre, Peter Parklhill, and Graham Dodsworth. Derrick brought with him his banjo and introduced the local folkies to 'diddly-diddly' tunes which inspired the local folk to look at their instruments in an entirely new light. Derrick, Declan, Danny and Gordon were all wonderful traditional folk singers. Their contribution to the festival and the local folk scene was enormous and inspirational.
Almost all of the festival was recorded by Serge Petelin on reel-to-reel tape and owned by the QFF. These recordings have now been deposited with the national library and are available on request. I have a recording on DVD on the entire Saturday night concert.
Easter 1974 saw the National Folk Festival being held in Brisbane . Our festivals in those days were held at the University of Queensland. We used the lecture theatres for workshops and concerts were held in 'the Hall of Echoes' AKA Mayne Hall. The Hall had full length glass windows down each side and the sound reverberated around making it rather difficult for anyone past the first three rows to realistically hear the sound on stage. I was billeting officer for this festival. Billeting was the usual way of accommodating visitors from out of town. I called for volunteers to open their homes and provide beds and my name and address were advertised as a contact to match visitors with locals for purposes of accommodation. I only wish I had kept some of those letters. One memorable person I met through this process was 'Smokey' who ran the Tennant Creek Folk Club.
It was not often we were graced with the presence of major overseas folk groups in Brisbane. They sometimes made it to Sydney or Melbourne but we usually missed out. Fairport Convention came to Australia in 1974 but the closest they got to us was Sydney . I rang the promoter who offered me the group for $3,000 and I would have to provide a venue and do all the advertising. Not being that adventurous I decided to go and see them in Sydney . Four of us went down – myself, Martin Gallagher and Keith and Jan Smith. The promoter greeted us at The Sydney Oplera House where the concert was taking place and took us back stage to meet the band, which included Trevor Lucas (an expat Aussie) and Sandy Denny. It rained in Brisbane that weekend. Man! Did it ever rain?! It was the weekend of the '74 floods. Trevor Lucas was saying Brisbane would all be OK as all our houses were 'on stilts'.
The concert was great. Getting back to Brisbane took almost a week. The roads were all cut and we got as far as Ipswich where the owners of the Dinmore Potter kindly accommodated and fed the tired group of Brisbane folkies. Keith and Martin grew tired of waiting and hitched a ride by foot and row-boat back home, leaving Jan and myself to eventually get home via Beaudesert.
In the latter part of 1974 a bunch of us Brisbane 'folkies' decided to make the pilgrimage to England to investigate the folk scene there. Alan Forshaw (originally from the north east of England ) and Alan Bannister (originally from Somerset ) went on ahead. I followed. We three went via cruise ship. My first English festival was at Loughborough. One of the first people I met there was the 'collector' A. L. (Bert) Lloyd. I also ran into the Melbourne band The Bushwackers who were touring the UK . We Brisbane folkies had agreed we would all meet up at the 1974 Bromyard Folk Festival and there I first saw Martin Carthy, Maddy Prior and June Tabor. Alan B, Alan F and myself met up there with Alan and Robyn Craig. We made a base for ourselves in London at 30 Filmer Road Fulham and were joined by 'Huggie' from Brisbane and had visits from several other Aussie folkies. It was there I met Alan F's son Dave Forshaw, who now runs the Clennell Hall Folk Festival in Northumberland.
Sometime during all these goings on I joined the Queensland Folk Federation which had Bob Michell as it's president and I was elected to the committee. We used to meet at Bob's place. Later Pamela Gallagher became a driving force and president of the QFF. This was during the early 1970s when the '73 and '74 festivals were held in Brisbane . It was a very busy time.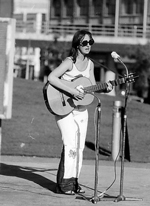 Pamela Gallagher was a great organizer. She was involved in organising concerts for WARANA at Brisbane City Hall and in the Botanic Gardens. She also organized a folk club called Uni-Que at the University of Queensland , lunch-time concerts at various school venues and a concert to raise funds for the victims of Cyclone Tracy. I sang and played at all of these.
There were monthly QFF Wine and Cheese parties at Pamela's at 8 Bellevue Street Milton, and she also organised the monthly QFF Sunday concerts at Roma Street Forum.
Pamela also ran Fling things – bush dances at the Foresters Lodge Hall at Latrobe Terrace, Paddington . Amongst others, Don and June Nichols played in the band, while daughter Fiona slept in her bassinet.
It is said that the Mediaeval Fayres began originally from idea by Dale Riddle. Regardless of whose idea it was, the first one was held at the Priory at Brookfield around 1975 and the attendance far exceeded expectations. The 'fare' at the 'Fayre' included mead and mulled wine. Subsequent Fayres were organized by Pamela and held in the grounds of St Francis' on Milton Road Milton . Later they were taken over by the QFF and moved to Mowbray Park .
Asmentioned earlier, we usually missed out on seeing major overseas folk groups in Brisbane . Steeleye Span did make it, however. They played at Festival Hall Brisbane and were supported by the Wayfarers. I sat in the front row (along side Keith and Jan smith) with my tape recorder and recorded the entire concert. I'd never get away with it these days!
The Folk Centre had to close in April 1977 due to the site being 'redeveloped' and other venues sprang to life. The last weekend at the Centre was amazing. Stan Arthur tried to ensure everyone who had ever performed at the Centre did a spot over the course of the weekend and he had it recorded. The place was packed out with people hanging out the doors – standing room only. It was HOT (in more ways than one). The end of an era.
Soon other folk venues sprung up. The Tar Pot Folk Club, run by Bob and Shan Babinall, was held at the National Hotel in Adelaide Street on a weekly basis. One memorable night around 1979 I was on stage with my partner of the time, Bern Dell, and we noticed the audience were getting up and leaving. Someone eventually came up on stage to collect his guitar which was out the back and whispered in my ear 'The Pub is on Fire'. I am so glad someone eventually told us – I was beginning to worry! So, we all stood out on the footpath and watched the smoke billowing out of one of the upper floors until it was extinguished and we went back inside and carried on in the true folk tradition.
There was also regular folk nights at the Red Brick Hotel. Just another of the venues I frequented. It all becomes a blur after a while. The Red Brick was a good venue for acoustic music in the late 1970s. I remember doing a few 'gigs' there with Hilltop Holdout Bluegrass band (HHBB).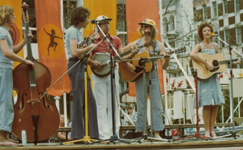 I first heard HHBB at the Folk Centre around 1977. The line up at that time was Keith Ross on banjo, Bern Dell on guitar, and three Americans - Hunter Owens, Jim Farnham (sp?) and Nancy Hodgen. Rosanne Gare played fiddle. In 1978 they had a shake-up when the Americans went their separate ways and Roseanne left the group. John Djvorak joined them for a while and I was invited to join them as singer and rhythm guitarist when John left. We played a concert at the Taromeo Folk Festival. I stayed with the group until 1980. We performed on ABC TV's Country Music programme Country Roads, me singing John Denver's 'Grandma's Feather Bed' and Bern singing the Eagles song 'Tequila Sunrise' Mark Webber had joined as double bass player by then and we were also joined by Ian Dodd who now plays mandolin with Sue Wighton in Unsung Heroes. Other people who played with HHBB over the years were Mick Bohl, Mick Albeck, Chris Ridgway, Ewan Mackenzie, Wendy Reed, Geoff Adeney, George, Matt Harrison and Hugh Curtis.
Another international folk group to make it to Brisbane was The Fureys. They played Festival Hall and were supported by Hilltop Holdout Bluegrass Band – I was a member at the time.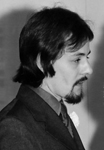 Around 1977/78 ABC TV decided to produce a folk programme Around Folk which aired live on Tuesdays. It was produced by Hilton Tipson and the compere was Ray Meagher. The Wayfarers were the resident group. There were two (or three) series and in the second one I sang the Buffy Sainte-Marie song Piney Wood Hills with Keith Smith blowing 'blues harp' (harmonica, for the un-initiated) in the background. Keith was the best blues harp player around. The band who performed immediately before me was the Back Porch Minority.
I took a much lower profile on folk scene for a while from 1980 when I teamed up with Bern Dell as a partner. We bought a house. We had a baby in 1981. We performed as a duo at pubs and formed a bluegrass band – Stanley County Newgrass, with Bob Lee on Double Bass and Mick Kerin on Fiddle (Mick went on to play in Slim Dusty's band). Bern played HOT bluegrass style flat-pickin' guitar and Scruggs style banjo. We did FREEPs (Free Entertainment for Everyone in the Park, organized by the Brisbane City Council).
I got back into the full swing of the folk scene around 1983. Some other folk clubs I attended were Club 291; the New Chum (held in a pub which has since been demolished) at the top of Edward Street; The Pod – at Latrobe Terrace and at later at Queen Alexandra House at Coorparoo – but I will leave someone else to explain those venues.
One memorable event of recent times was the Grey and Crusty Folk Concert at Queen Alexandra House, organized by Lyn Mathieson. The concert featured Alex Hood, Derrick Chetwyn, Doug Eaton and Evan Mathieson.
I have had varied involvement with the Maleny and Woodford Folk Festivals. I attended the first Maleny festival which was an intimate affair with just one stage. I missed the second one but made it to the third, held at Easter 1989, which was also a National Folk Festival and was the first really huge one. It was the first to have the 'Big Top' and multiple other venues. The attendance exceeded expectations and by the time I arrived the organizers were parking cars on the grass outside the Big Top. That was where I camped, in my old panel-van, with my son, Gwyn. It was wild. I didn't get much sleep. Even when the Big Top was not 'rocking' there were jam sessions everywhere. There was an impromptu Hilltop Holdout reunion of sorts and one night I found my van rocking and Hilltop Holder Outers calling me for a session. I got up – what else could I do? We wandered around in the drizzle until we found a dry spot and sang and played until daybreak.
It rained! Oh the mud! Festival organizers were trucking in hay and had to get in the bulldozers to try to make it possible to get around without getting stuck in the mud. This will sound all to familiar to current Woodford Festival goers.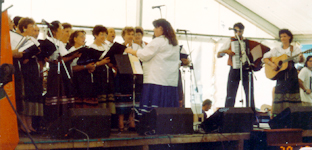 For 9 years I played guitar in an Italian folk group called Coro Abruzzo and we performed at one of the Maleny Festivals. I was already at the festival when the bus load of Italians arrived (there were 25 in the group and they always bought their spouses with them). I was called to the gate. It was sheer bedlam with the guy who ran the gate (can't remember his name now – was it Reg?) trying to tick off who was performer and who was partner and the Italians all speaking their native tongue. In the end I was given a sheet of wristbands and told "tag 'em and get 'em out of here". Coro Abruzzo also performed at one of the Woodford Festivals.
I was a brick-buyer for the Woodford Festival. To raise funds to purchase the new site (which was an old dairy farm) a scheme was devised where folk could buy a brick for $50. One of these days I'll find my brick.
I grew tired of the heat, dust and flies - or the mud - and skipped Woodford for about four years but was eventually enticed back by Shez Wright who was running the Singing Shed. 'The Shed' was a place where festival-goers could go along and participate in some singing. It was right next door to the Guinness bar. I helped Shez out for the last three years of the Shed's life. We ran themed sessions where we would have, for example, a Joan Baez session, or a John Lennon, or a Dolly Parton, or songs of a particular era or on a particular subject. There was a facilitator who ran the session and invited anyone from the audience to get up and sing their favourite song. Mostly the theme was adhered to but occasionally it would drift off into a free-for-all – but that didn't matter as the main idea was to get audience participation. These sessions were very successful and I will never understand the reasoning behind dropping the venue.

When the Singing Shed was axed the festival organizers expanded the Guinness Bar to encompass the area the Shed had occupied. They also started up a great new venue called the Duck and Shovel which is, in my mind, a more 'folkie' venue than anything else the festival has had to offer in recent times. In 2006 we held the June Nichols Tribute concert (June having lost her fight with cancer in February of the same year). Bill Hauritz had asked me to organize the concert at June's 'wake', which was held at the East Brisbane Bowls Club. Martin Pearson, Cloudstreet, Pirate Brides and the Moreton Bay Band gladly gave of their time and their musical talents. In between stage performers I had the Moreton Bay Morris and Ragged Morris dancers performing in front of the stage. The performance of 'Dance Up the Sun' with Cloudstreet singing their song was truly magical. The finale was everyone on stage singing songs which June used to perform. It was a very moving concert.
Recently I managed to drag my tired bones out of bed at 3:30 am to go up to Mount Coot-Tha for the annual May Day 'Dance Up The Sun'. This is done traditionally in England to welcome in the summer. Morris dancers gather from all over and begin dancing in the dark and don't stop until the sun comes up – it is them we have to thank for the fact that the sun does indeed come up. Where would be without them? We are, indeed, blessed.
I have been collecting photos of 'old folkies' for several years now and have quite an archive. Many of them are online (ther is a link from www.folkrag.org) and it is the intention of the Brisbane Folk History Project committee that we hold a photographic exhibition in conjunction wit the release of the CD, DVD and book.
These days I am still singing and playing (just try to stop me!) – often at the Kookaburra Folk Club at Paddington on a Wednesday night, sometimes at the MadAss on a Thursday or at Folk Redlands on the first and third Sunday of each month.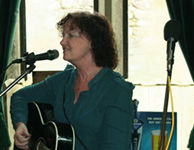 In 2007 I went back to England to perform at the Clennell Hall Folk Festival in England 's Northumberland National Park which is run by Dave Forshaw (son of Alan Forshaw) who I meet on that trip in 1974. Alan and Robyn Craig came along and we had a grand reunion with Dave. I am booked to play there again in 2009 and am trying to get together an Aussie contingent to go along.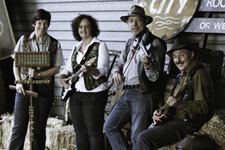 I am also a member of Rantan Bush Band and we do mainly corporate gigs. I am currently webmaster for the Folk Rag and a committee member on the Brisbane Folk History Project .
We folkies are a community - a Family of Folk, who band together to enjoy each other's company and music and to leap to the aid of anyone in times of need. We will still use any excuse for a party and a get-together to play music but, why is it the 'goold old days' always seem better? I have very fond memories of my time in Brisbane the folk scene and to all the new folkies I would say... sorry guys… you missed the very best time!